Welcome back and Happy New Year!!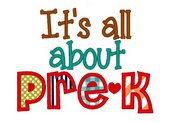 Pre-K Schedule
7:50-8:00 Arrival (coats and book bags put away and table activity)
8:00-8:15 Calendar time
8:15-8:30 Breakfast
8:30-8:40 Bathroom and music with movement
8:40-9:30 Story time/Large group literacy/Phonological awareness
9:30-9:45 Small groups
9:45-10:45 Centers
10:45-10:55 Clean up centers and prepare for lunch
11:00-11:30 Lunch
11:30-12:00 Bathroom break and music with movement
12:00-1:00 Nap
1:00-1:45 Bathroom and indoor or outdoor play (dependent upon weather)
1:45-2:00 Story Time
2:00-2:30 Small group or large group math, science, or social studies
2:30-2:45 Closing activity
2:45-3:05 Clean up and prepare for departure
**Schedule is abbreviated on Fridays due to earlier departure time. **
Supply List:
Bookbag
Hand soap
Baby wipes (if your child is sensitive to baby wipes, please bring something we can use to wipe his/her hands and face).
Clorox/Lysol wipes
Kleenex (pocket packs or box)
Hand sanitizer
Disinfectant spray
Folder (for correspondence)
Primary Writing Tablet
Sleeping Mat (find these at Wal-Mart)
Crayons and pencils (optional) Jumbo